Aretesyn MVME250x Series NXP® QORIQ® P2010/P2020 VME64X SBC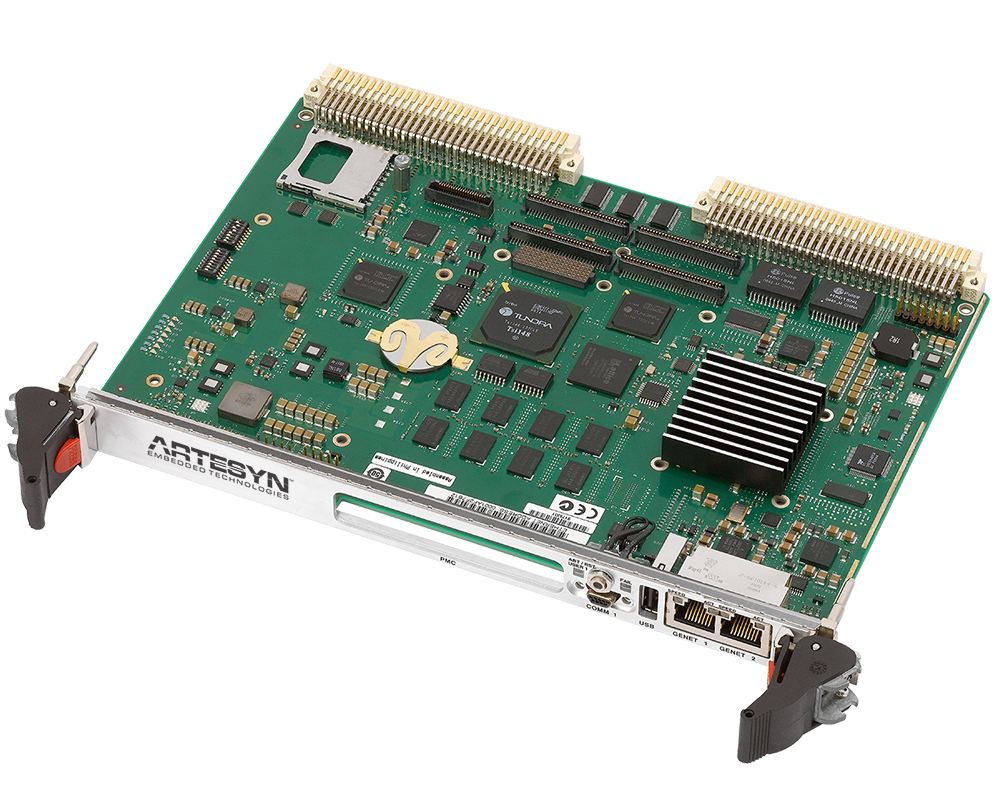 Aretesyn MVME250x Series NXP® QORIQ® P2010/P2020 VME64X SBC
The Artesyn Embedded Technologies MVME250x single-board computer (SBC) features the NXP® QorIQ® P2010 or dual-core P2020. The e500 v2 core QorIQ processor uses 45 nanometer technology, which delivers an industry-leading performance-to-power ratio with single-core or dual-core frequencies up to 1.2 GHz at less than 8W. This is a perfect migration path for our PowerQUICC processor boards (MVME3100 and MVME4100), as well as our G4 processor boards (MVME5100 and MVME5110).
On-board memory includes up to 2GB DDR3 memory and 512KB non-volatile magneto resistive random access memory. MRAM is high speed non-volatile RAM with unlimited readwrite access that protects data in the event of a power loss and does not require periodic refresh. MRAM is ideal for critical non-volatile data storage, data logs, dynamic program updates, and dynamic security. In addition the MVME2502 variant has 8GB soldered eMMC solid state memory for additional rugged, non-volatile storage. Connectivity includes Gigabit Ethernet, USB 2.0, serial ports, SATA port and either one or two PMCXMC site with the MVME2500 and MVME2502 respectively. A hard drive mounting kit is available for Serial ATA or solid state hard drives.
The extended temperature models feature an operating temperature range of -40°C to +71°C - a significant increase over the standard models' 0°C to +55°C range. Acceptable storage temperatures have also been increased, safely accommodating environments from -50°C to +100°C. The rugged variants are capable of operating under up to 5G of vibration (15 to 2000 Hz) and can withstand an 11 millisecond shock of up to 30G. Conformal coating is also available. The MVME250x series is ideal for automation, medical, and military applications such as railway control, semiconductor processing, test and measurement, image processing, and radarsonar.
MVME2502
MVME2500
Power Architecture Processor
QorIQ P2020
QorIQ P2010P2020
Clock Speed
1.01.2 GHz
800 MHz1.2 GHz
Cache
L1: 32KB   L2: 512KB
L1: 32KB   L2: 512KB
Memory
2GB DDR3-800 ECC
12GB DDR3-800 ECC
Flash Memory
16MB SPI Flash;
16MB SPI Flash
8GB eMMC
NVRAM
 64KB EEPROM;  512KB MRAM
 64KB EEPROM;  512KB MRAM
Ethernet
3 GbE (1 Front, 1 Rear,  1 Configurable)
3 GbE (1 Front, 1 Rear,  1 Configurable)
Serial
5 RS-232  (1 Front, 4 Rear)
5 RS-232  (1 Front, 4 Rear)
SRIO
--
--
USB 2.0
1 Front
1 Front
SATA
Optional SATA Drive Kit
Optional SATA Drive Kit
GPIO
--
--
PMC Site
Dual 3264-bit PCIX 3366100133 MHz
One 3264-bit PCIX 3366100133 MHz
XMC Site
2
1
PMC Expansion
--
--
VMEbus Interface
VME64x2eSST
VME64x2eSST
Extended Temp
Available
Available
Conduction Cooled
--
--
Conformal Coating
Optional
Optional
Rear Transition Module
Available
Available
BSP Support
VxWorks; Linux;
VxWorks; Linux;
Green Hill Integrity
Green Hill Integrity
(Optional);
(Optional);
LynxOS (Optional)
LynxOS (Optional)

| | |
| --- | --- |
| Category | VMEBUS (MVME) |
| SKU | MVME250x |
| Manufacturer | Artesyn |