Aretesyn MVME7100 NXP® MPC864XD VME SBC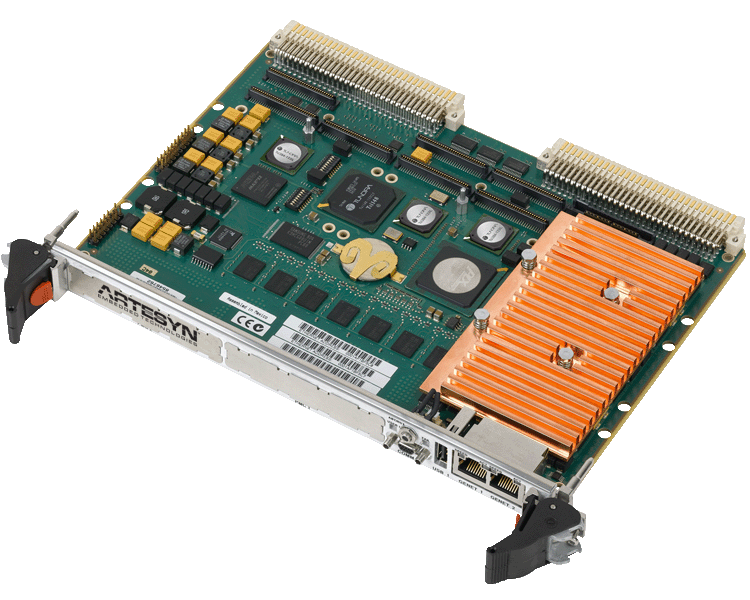 Aretesyn MVME7100 NXP® MPC864XD VME SBC
The Artesyn Embedded Technologies MVME7100, featuring the system-on-chip MPC864xD processor, offers a growth path for VMEbus customers with applications on the previous generation of VME, specifically the MPC74xx processors. The system-on-chip implementation offers powerthermal, reliability, and lifecycle advantages not typically found in alternative architectures.
The Artesyn MVME7100 single-board computer (SBC) helps OEMs of industrial, medical, and defenseaerospace equipment add performance and features for competitive advantage while still protecting the fundamental investment in VMEbus and related technologies. Customers can keep their VMEbus infrastructure (chassis, backplanes, and other VMEbus and PMC boards) while improving performance and extending the lifecycle. Also, the extended lifecycle of Artesyn computing products helps reduce churns in development and support efforts resulting from frequent product changes.
The faster processor and 2eSST VMEbus interface combine to offer significant performance improvement. New cost-effective peripherals can be integrated easily using USB interfaces.
Extended temperature (-40°C to +71°C) variants support a wide range of operating and storage temperatures in addition to increased tolerances for shock. This enables the boards to operate in harsh environments while maintaining structural and operational integrity.
MVME7100
Power Architecture Processor
MPC864xD
Clock Speed
1.061.3 GHz
Cache
L1: 32KB   L2: 1MB
Memory
12GB DDR2-533 ECC
Flash Memory
128MB NOR;  248GB NAND
NVRAM
128KB SEEPROM;  512KB MRAM
Ethernet
4 GbE (2 Front, 2 Rear)
Serial
5 RS-232  (1 Front, 4 Rear)
SRIO
--
USB 2.0
1 Front
SATA
--
GPIO
--
PMC Site
Dual 3264-bit PCIX 3366100 MHz
XMC Site
--
PMC Expansion
Available
VMEbus Interface
VME64x2eSST
Extended Temp
Available
Conduction Cooled
--
Conformal Coating
Optional
Rear Transition Module
Available
BSP Support
VxWorks; Linux;
Green Hill Integrity
(Optional);
LynxOS (Optional)

| | |
| --- | --- |
| Category | VMEBUS (MVME) |
| SKU | MVME7100 |
| Manufacturer | Artesyn |